NRIs can buy residential as well as commercial property in India but they can't buy agriculture land. NRIs can also buy multiple properties too.
NRIs can take a loan to buy property just like Resident Indians. Just like for resident Indians, 70%-90% of the value of property can be funded by a loan. The remaining amount has to be funded by the NRI's personal resources. It is important to note here that the remaining amount has to be paid in INR. It cannot be in any other currency.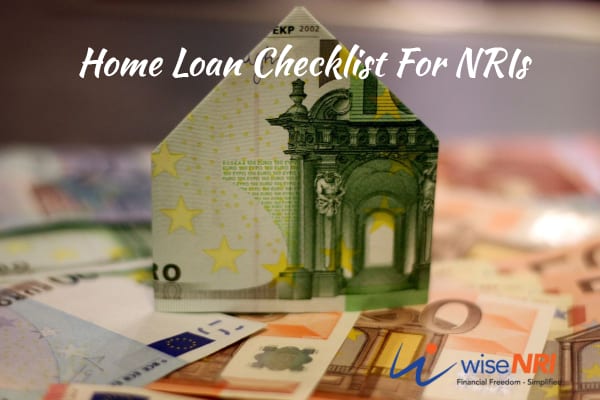 NRI Home Loan Checklist
NRI Loans are provided by most major banks in the country and financial institutions. Here is a checklist of requirements for NRI home loans.
Eligibility Criteria:
Age – Most banks expect the applicant to be between the ages of 24-60 years. For example, Axis Bank wants the applicant to be at least 24 years old and ICICI bank has the minimum age at 25 years.
Work Experience – Banks expect the applicant to be abroad for at least 6 months. ICICI Bank expects a one year period aboard before applying for a loan. Different banks have different tenure expectations.
Income – Banks require a minimum income level to apply for a loan. Axis Bank expects the income to be  equivalent to at least AED 5000 per month for GCC countries and income to be equivalent to at least USD 3000 per month for USA and Other Countries The income level is different for different countries and types of employment.
Identity Proof:
Any identity card such as PAN, Passport, Aadhaar Voter ID or Driving License
Address Proof:
Any document with your address in India – Passport, Aadhaar, Voter ID, Telephone Bill or Driving License
Income Proof:
– Any of the following –
Salary Slips, Appointment Letter, Bank Account Statement where salary is   received
If the NRI is self-employed, then validated financial statements.
– IT Returns
Property Transaction Documentation:
– Property documents such as Agreement for Sale, Property Allotment letter
– Permission for construction (if applicable).
– Loan Application documentation
– Receipts of payment made if any.
– Insurance policy documentation
Loan Amount/Charges:
Different banks have a different threshold for loan amount.
For example, SBI offers a minimum loan amount of Rs. 3,00,000.
Usually banks offer loans up to 70%-80% of the property value.
Processing fees range from 0.25% to 3%. There are penalties for late payment and for pre-payment of the entire loan amount
Repayment:
An NRI can repay the housing loan through remittances made from abroad through normal banking channels or through NRE account/NRO account or out of rental income derived from the property.
The loan can be repaid in Indian Rupees only.
Repayment tenure can be between 20 years -30 years. For example, the loan tenure in case of ICICI Bank depends on educational qualifications.
PNB has a repayment tenure of a maximum period of 15 years in case of home purchase/construction and 10 years in case of home improvement.
There might be some other requirements or documentation depending on the bank from where the loan is disbursed. Check with your bank to understand the exact requirements, eligibility, features, and conditions.
If you are an NRI & have any questions regarding Home Loan – add in the comment section.