Whenever I ask an NRI about their investments in India – most of them share a list of properties that they have purchased in the last few years. NRIs simply have to understand Real Estate is an asset class like any other – there are pros & cons. Let me stick with Mutual Funds for NRIs here.
Few points that I have covered in this NRI Mutual Fund post:
NRI Mutual Fund Advantages
Can NRI invest in Mutual Fund?
How to invest in mutual funds in India NRI?
Mutual Fund KYC for NRI
Taxation of Mutual Funds for NRI
Repatriation of Money
Mutual Funds in India for NRI – Advantage
Mutual fund schemes are apt investment vehicles for NRIs to invest in India. The main advantages of investing in Mutual fund schemes are –
They offer a diversified portfolio which helps reduce risks and improve chances of better returns
They are highly liquid. You can buy them and sell them at your convenience and as per your requirements in most cases.
They are managed by professionals and so you get the benefit of expert investment decisions.
You need not to have a large sum to invest in MFs.
Some mutual funds offer tax savings.
Easy to manage as NRIs can invest in Mutual Funds online.
List – Best Indian mutual funds for NRI
Can NRI buy Mutual Funds in India?
NRIs are allowed to invest in mutual fund schemes in India.
Availability of MF schemes for NRIs to invest
NRIs from all over the world can invest in most of the Mutual Fund Schemes in India except for some restrictions on NRIs based in US and Canada.
There are restrictions due to compliance requirements.
They can invest only in the schemes of some of the fund houses such as Birla Sun Life, DHFL Pramerica Mutual Fund, ICICI Prudential, L&T Mutual Fund, PPFAS Mutual Fund, SBI Mutual Fund, Sundaram Mutual Fund, and UTI Mutual Fund.
There are major tax & reporting issues – consult your investment advisor.
Mutual Funds for NRI
Here are the important details to understand as an NRI while investing in Mutual Funds –
Requirements for an NRI to invest in Mutual Funds
NRIs have to be KYC compliant to invest in Mutual funds. They have to file in for a fresh KYC even if they were KYC compliant as resident Indians.
NRIs need to have an NRO or NRE account for the transfer of funds to and from the mutual fund for the investment. The bank account operational in a foreign country cannot be used for Mutual Fund investments in India.
NRIs have to give the FACTA and CRS self-declarations too.
Mutual Fund KYC for NRI
The form can be downloaded from AMFI, any mutual fund or KRA websites. The necessary documentation such as PAN, passport and overseas residence proof should be submitted. An In-person verification can be done by the advisor or Indian embassy in the country of residence or in many cases online. (a small investment in the mutual fund is compulsory at the time of KYC)
Check – NRI Investment Options in India
How to invest in Mutual Funds in India for NRI
NRIs can invest through their demat account linked to the NRE/NRO account.
They can also open an account in an online platform such as MF Utility (MFU) and manage their investments.
NRIs can also buy and sell mutual fund units directly from the fund house using their online services or the paper-based application forms.
"NRI can also invest in Indian Mutual Funds by giving Power of Attorney (POA) to a family member in India." wiseNRI
Details on investment amount and repatriation
Investments in mutual funds can be done in INR only. The amount has to be debited from the NRE or NRO account. Other remittances being used require a Foreign Inward Remittance Certificate.
Redemption proceeds on the sale of Mutual Funds shall be credited to the respective NRE/NRO bank account of the investor. The redemption will be done in INR only. Redemption proceeds of investments can be fully remitted back abroad on repatriation basis assuming the investment was done as an NRI and from an NRE account. Redemption proceeds to an NRO account cannot be repatriated easily.
Mutual Fund taxation for NRI
Equity Mutual Funds
– Short-Term Gains – 15% of the gains is payable as tax
– Long Term Gains – Gains up to Rs. 1,00,000 per year are exempt from tax. 10% tax is payable on gains over and above that amount.
Non-Equity Funds
– Short-Term Gains – 30% of the gains is payable as tax
– Long Term Gains -If it is a listed Mutual Funds, 20% of the gains is payable as tax (with indexation). In case of unlisted Mutual Funds, 10% of gains is applicable (without indexation)
Fixed Maturity Plans
– Tax on Short Term Gains
– If the FMP matures in less than 3 years, tax is applicable as per income tax slab of the individual.
– In case of long term gains, 10% tax, without indexation is applicable and 20% with indexation
You can read our detailed post on Taxation of Mutual Funds for NRI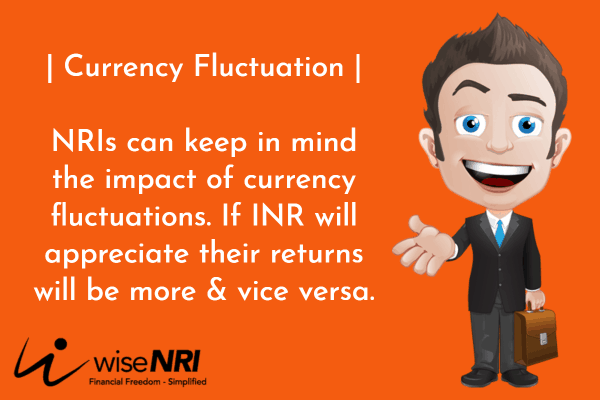 Nominees and joint ownership
NRIs can make joint investments in mutual funds in India with another NRI who is KYC compliant. (his/her bank details are not required)
An NRI can appoint an NRI or a resident Indian as a nominee for his investments in mutual funds.
There are many mutual fund houses that offer numerous schemes. As an NRI, you should pick up the right funds to invest in. The choice depends on factors such as the performance of the fund, your financial status, financial needs, cost of investment and market conditions.
If you are unsure on how to pick up the right investment, consult a professional financial adviser.
Talk to us about your Investments & Goals.
Hope this post gives you an idea about NRI Mutual Fund Investments – if you have any questions feel free to add in the comment section. If you think I have missed any major point in this post – just let me know & I will revise.