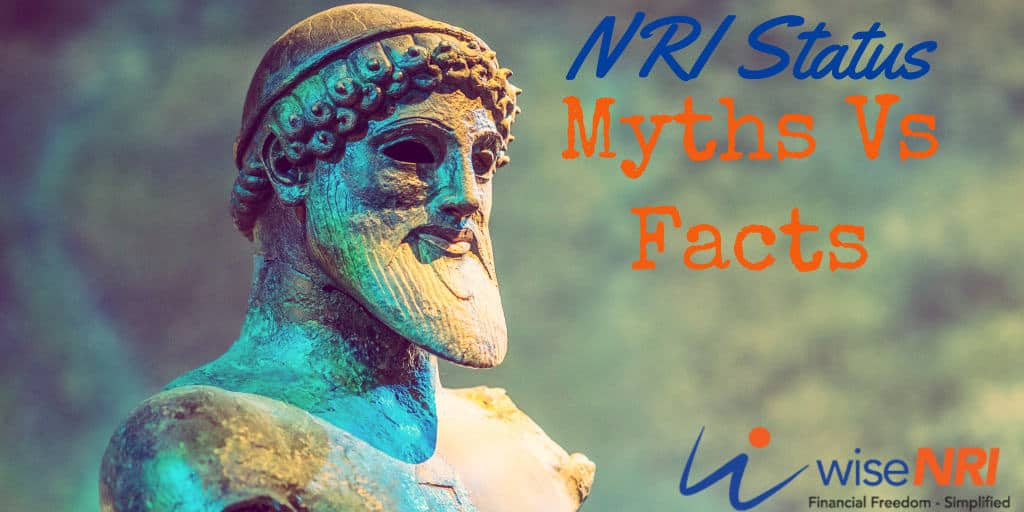 Indians go abroad for studies, better career opportunities and earning money. But it is important that they do not have any misconceptions about NRI status and its financial implications in India. Let's check the common myths & the actual facts.
Myth No.1 – I am an NRI and I do not have tax liability
Fact
NRIs are liable to pay tax on the income received or accrued in India even if they are not living in India. Here is a simple table to make this clear –
Residential Status
Indian Income
Foreign Income
Non-Resident Indian (NRI)
Taxable in India
Not Taxable in India
Resident and Not Ordinarily Resident (RNOR)
Taxable in India
Not Taxable in India up to 2-3 years.

Tax then depends on DTAA.

Resident and Ordinarily Resident (ROR)
Taxable in India
Taxable in India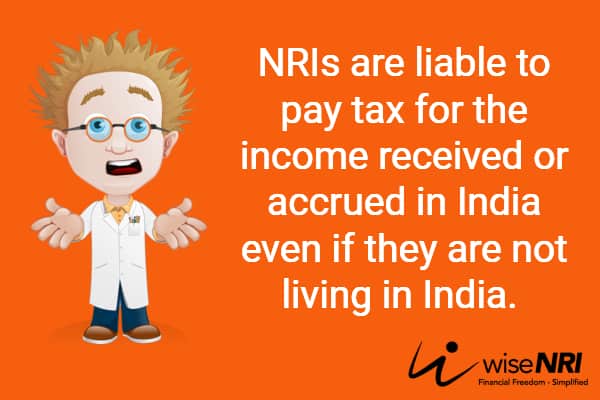 Myth No. 2 – All NRI bank accounts are same
Fact
There are three types of accounts for NRIs –
NRE (Non-Resident External Account)  – It can be opened in a foreign currency and maintained in INR. Interest earned on this account is tax-free. It cannot be held jointly with a resident Indian. The amount is fully repatriable. Check – What will happen to NRE FD after NRI return to India?
NRO (Non-Resident Ordinary Account) –  It is INR account – similar to a normal savings bank account. The NRI has to pay tax on interest earned on this account.
FCNR – It is for term deposits. It can be opened by NRIs and held jointly with resident Indians. Principal and interest amounts are tax-free. It can be maintained till maturity even if the status of the person holding the account changes from NRI to Resident Indian.
"

It's illegal for NRIs to continue Resident Savings Account.

wiseNRI
Myth No. 3 – Power of Attorney can be given only to relatives
Fact –
It is not always mandatory to give power of attorney to only relatives. In many cases, it can be given to people whom you trust.
Myth No. 4 – I cannot get a loan in India as I am an NRI
Fact –
NRIs can avail for loans in India. They can take loans to buy residential properties, commercial properties and for buying land for residential purposes. There are some more steps in the process of assigning a Power of Attorney and the tenure of the home loan is usually between 5-15 years.
Car loans are given to NRIs only residing in certain countries. Some banks allow the NRI to be a guarantor but the owner of the car has to be a resident Indian. Other banks have restrictions of age or require a mortgage.
Myth No. 5 – As an NRI, I cannot apply for a  joint loan with a resident Indian and will have to visit India for getting the loan
Fact – 
An NRI and a resident Indian can jointly apply for a loan. For some countries, there is extra documentation to be submitted. The loan will be considered as an NRI loan where the principal borrower will be the NRI. The EMI payments would have to be done through an NRI account.
Many banks complete the process and documentation without requiring the NRI borrower to visit India.
Read – Investment Options for NRIs
Myth No. 6 – NRIs cannot invest in stocks and MFs
Fact
An NRI can invest in direct equity. He needs to open an NRE or NRO account. This can be linked to a demat account which can be opened with any registered stock broker in India or Bank. He needs to have a trading account for the purchase and sale of shares and cash inflow and outflow. (Portfolio Investment Scheme is also an option)
Stocks – Dividend Income is not taxable (upto 10 lakh). Long term capital gains are taxable at 10%. Short term gains (less than 1 year) are taxable at 15%.
NRIs except from U.S and Canada can invest in all Mutual Funds in India. NRIs from US and Canada have certain restrictions and can buy only a select few Mutual Fund schemes.
Mutual fund units are treated as capital assets and attract capital gains tax in India. Taxation is similar to resident Indian but TDS is applicable on capital gains.
This post is written by Vidya – she is NRI.
Hope this post helps in differentiating fact from fiction about NRI Status. I know there are many more myths - please share in the comment section, this can help other readers. Must share this post with your NRI friends.