Many businesspersons and professionals relocate out of India for better career growth opportunities, lucrative job prospects, and an appealing lifestyle. Many employees are also sent by their employers on long-term work visas to manage their overseas and global operations.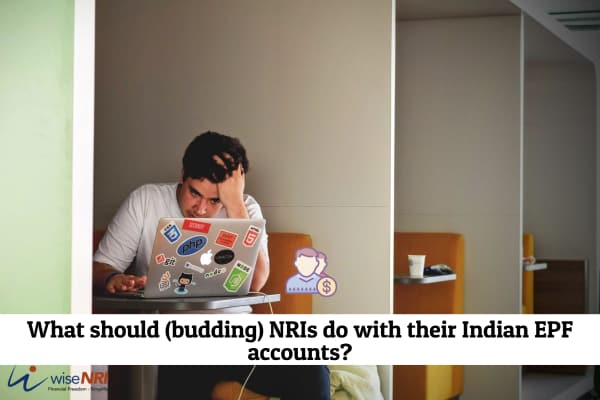 Though international exposure means better pay, lifestyle, opportunities, and growth potential, that does not mean you have not done well here in India. Your successes here helped pave your way to an international assignment.
And, in the long journey of your career in India, you may have contributed a significant sum towards your retirement corpus, the Employee's Provident Fund, or the EPF. The contribution, including your employer's contribution, and the accrued interest on it may have become a substantial amount over the years. It would be foolish to just let go of it, as this money can help you start a better-than-good life abroad or can be invested for better returns.
Your relocation can change your status from a Resident Indian to that of a Non-resident Indian (NRI) for many financial years before you come back or permanently settle abroad. As per the Employees' Provident Fund Act, if you are not employed in India, you will no longer be eligible to contribute to the EPF!
So, you have a corpus accumulated in your EPF account and do not know what to do with it.
Rules of EPF withdrawal for NRIs.
Usually, one can withdraw the EPF amount on or after their 58th birthday or on retirement. Also, if a person is unemployed for more than two months, they can also withdraw their entire contribution and interest accrued on it.
But none of the above cases apply to you – you are still in a job but are relocating out of India. As per the EPF act, if you are going to become an NRI as you are relocating for a job out of India, you can withdraw the entire EPF balance immediately, without any waiting period, and close the account! This includes your and your employer's contribution, and the interest earned on that amount.
However, like anything involving finances, you are required to prove that you are in fact leaving India to work and/or settle abroad.
Read – How can NRIs manage Financial uncertainty
Process to withdraw EPF when going abroad.
Your Passport and Visa must be all in order before your start the process of EPF withdrawal. The process can be carried out offline as well as online.
Offline Process
Ask for the "EPF Withdrawal Form" from your employer or download it from the EPF Organization's (EPFO) portal. There are two types of forms:

Aadhaar based form – if your Universal Account Number (UAN) is linked with your Aadhaar you can bypass the employer and directly go to the local EPFO office.
Non-Aadhaar Form – If your UAN is not linked with your Aadhaar, then you will require endorsement from your employer before submitting the application at the EPFO office.

Fill the form legibly and give the reason for parting from the job as "Abroad Settlement."
Attach self-attested copies of all documents and submit the completed form at the local EPFO offices.
Check – Best Investments for NRIs
Online Process
If you have the UAN linked to your Aadhaar, then you can visit the apply for EPF withdrawal online through the UAN member unified portal.
You can also download the EPFO's UMANG App, or from the App Store and Play Store, to apply for withdrawal of EPF balance.
In the online application, fill the necessary details and provide the reason for quitting the job as "Abroad Settlement."
Upload the clearly scanned copies of supporting documents in JPEG or PDF format and submit the form. You will get an OTP for verification, enter it when asked.
If your application and documents check out, usually, the EPF balance is transferred within two weeks from the scrutiny of the completed application.
Documents Needed
Documents (self-attested copies) required for EPF balance withdrawal are:
Aadhar Card for Identity.
Date of birth proof.
Local Indian Address proof.
If UAN is not allotted, then a certified copy of the EPF passbook for EPF no. from the last employer.
Proof of Date of exit from last employment.
Bank's details with IFSC code – canceled cheque.
Marriage certificate, for female members only, in case if they were previously unmarried.

Inoperative EPF Account – Confusion
In the year 2016 or 2017 EPF introduced a few changes & employees started thinking that if they don't contribute for 3 years they will not get interest on the balance amount. But in July 2017 Ministry of Labour & Employment issued a clarification
As per paragraph 60(6) of EPF Scheme, 1952, interest shall not be credited to the account of a member from the date on which it has become an inoperative account under paragraph 72(6) of EPF Scheme, 1952. However, as per amended definition, an account shall be classified as Inoperative after the member attains the age of 58 years. Hence, interest shall be credited to the account of a member upto the age of 58 years.
When you are going abroad temporarily.
What happens in case you are relocating for an international assignment only temporarily, for a few months to years, and will return and continue your job in India? You would not like to tamper and withdraw with your EPF balance and would like to continue contributing to it when you come back.
In such a case, just do not apply for withdrawal of the balance – your account will remain operative (for three years), and the last balance would continue earning interest. Once you are back and have joined a new job, your balance can be transferred to a new EPF account, using your UAN.
If your account has remained inoperative for more than three years, you must get its status updated by visiting the local EPFO offices.
Check – Financial Planning Moves for NRIs
Final words
When you are relocating and starting a new life, it is always better to tie up loose ends and have control over finances, else you might stumble on them. If you have a small corpus, withdrawing the EPF balance and closing the account not only a smart financial decision, but it also means you will spare yourself worrying about one more thing.
But if you have a larger corpus & you are sure you will be coming back to India – it will be wise to continue EPF.
Check – How to choose the best Financial Planner
Please share your experience if you have tried to withdraw EPF after becoming NRI or if you decided to retain EPF.