In the budget 2019, there was an announcement that AADHAR can be used in the place of PAN & even at the time of filing taxes. But next day income tax office clarified that they will issue PAN to people who will file using AADHAR.
Then came another news that PAN Cards that are not linked to AADHAR will be deactivated after 31st August 2019.
There is no clarity if AADHAR rule will be applied to NRIs & so many people don't want to have AADHAR due to data issues. So I am assuming status quo on NRI PAN Card & sharing this post.
Does an NRI need a PAN?
There are many reasons for an NRI to obtain a Permanent Account Number(PAN) –
As an NRI, you might have an income in India. If the income in India is above the threshold limit to file returns, you have to file tax returns. To file tax returns, PAN is required.
As an NRI, you can invest in stocks and mutual funds subject to certain conditions. For these investments, PAN is required.
NRIs can invest in property and land as well. These transactions require PAN.
Check – Tax Rates for NRIs
PAN Card application for NRIs
How To Apply for PAN?
NRIs who are Indian citizens and above 18 years old, need to use Form 49A. (NRI with citizenship of other country required to fill form 49AA) This form can be accessed here –
Or
Or
NSDL – NRI PAN Card Online
It has to be filled and submitted online. An acknowledgment will be received. The acknowledgment along with relevant documents have to be sent to the NSDL office within 15 days of submitting the form online.
The process can be completed offline as well. Form 49A can be downloaded and filled. It has to be then submitted to the NSDL office along with relevant documents.
Check – NRI Mutual Fund Taxation in India
PAN card for NRI documents required
The following are the key documents for PAN application –
Proof Of Identity
Some of the documents that are accepted include –
Birth Certificate
Passport
Driving License
Affidavit notarized by a magistrate
Pensioner's card
Certificate of identity in Original signed by a
Member of Parliament or Member of Legislative
Assembly or Municipal Councillor or a Gazetted
officer
Bank Certificate in Original on letterhead from
the branch(along with name and stamp of the
issuing officer) containing duly attested
photograph and bank account number of the applicant.
Proof of Date of Birth
Some of the documents that are accepted include –
Birth Certificate
Passport
Driving License
Affidavit notarized by a magistrate
Marriage Certificate
Matriculation Certificate or Mark Sheet of
recognized board
Photo identity card issued by the Central
Government, State Government,
Public Sector Undertaking or State Public
Sector Undertaking
Proof of Address
Some of the documents that are accepted include –
Passport
Passport of spouse
Aadhaar Card
Bank Statement (less than 3 months old)
Utility Bill (less than 3 months old)
Property Registration Document
Domicile certificate issued by the government.
DP Account Statement (less than 3 months old)
Credit Card Statement (less than 3 months old)
Photographs
Two recent photographs are required
Must Read – How NRIs can file tax returns
When and Where will I receive it?
The PAN after submission and verification of documents and payment of fees is dispatched to the correspondence address mentioned by the applicant. An NRI can give a foreign address for correspondence.
PAN card charges for NRI
The fee for processing PAN application for correspondence address in India is ₹ 110.00  and fees for processing PAN application with correspondence address outside of India is ₹ 1,020. So in case of online pan card application for NRI higher fees will be charged to cover dispatch charges.
Payment can be done by demand draft, debit card, credit card or Netbanking.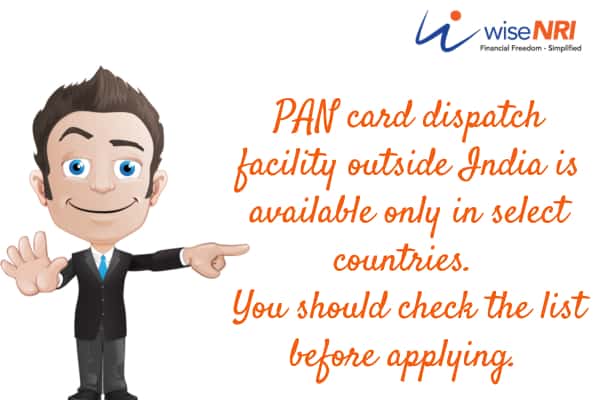 While applying for PAN do remember
To put your signature/thumb impression in the box provided
AO code should be put incorrectly in the form.
Do not apply for PAN if you already have a one.
Applying for PAN is a straightforward process. If you do not have one, ensure that you apply for one soon.
If you have any questions NRI PAN Card – add in the comment section.