Moment your residential status change to NRI, there are many rules & regulation in personal finance which get applicable to you or simply get changed. Right from your bank account to the properties you may hold, all of them have a different status. Most people tend to ignore some of them; unaware that these are illegal in law and will attract penalties.
The most basic of these is the resident savings bank account which is the starting point and attractive investments like PPF. I keep getting multiple questions on this – like:
Can an NRI open a resident account?
Can NRI hold savings account in India?
Is there any penalty for not converting to NRO account?
What about NRI PPF?
This post will answer all these questions.
Here's what the laws say and what you should do when you attain the NRI status.
NRI – Resident Savings Account
Most individuals make a mistake of continuing a resident savings account even after becoming an NRI but the law does not allow it. Or in simple words, it's ILLEGAL to hold resident savings bank account for NRIs. As per FEMA regulation, when your status changes to NRI the resident savings account have to be converted to an NRO account.
All income which is receivable in India such as rentals from property, investments, pension etc has to be deposited in this account and any payment towards insurance premiums or EMIs on loans which you availed while in India also has to be mandated from the NRO account. For this, you need to inform your bank of status change within a reasonable time period. (This period is not defined but you can consider maximum 3 months)
The bank then will designate your existing resident account to the NRO account and your payment will continue as it is. Alternatively, you have an option to close the existing resident savings account and open a new account in case you choose to change your bank.
Do remember that if you continue the resident savings account and it comes to the notice you will be penalized for the same. Funds from the NRO account are now repatriable up to $1 million now but with a condition that you have obtained a certificate from a Chartered Accountant for payment of taxes as applicable on your income in India. Check – NRE to NRO transfer form 15CA
For depositing funds from abroad one will need an NRE account where there is no limit on repatriating funds back to the resident country.
All your investments and payments are linked to bank accounts. If your existing resident bank account is changed to NRO then only the status is changed. In such a case you may have to inform the respective institution. In case if you open a new account then you will have to give the fresh cheques or if it is being done through ECS/ACH then the ECS/ACH mandate will have to be changed to the new NRO account. The same process will be applicable for any payout with regard to investments. Check – Best Investment Plan For NRI
"You don't have to be present in India to convert Resident Savings Account to NRO & can be simply done by informing the bank through a letter or in few banks even an email will work." wiseNRI
Read – NRE Vs NRO Account
Can NRI open PPF account in India?
PPF is a very effective savings tool for long term planning which you would have availed as resident Indian. But NRIs are not eligible to open a PPF account. However, the most unclear rules are for existing accounts. From 2003 onwards, if you have open a PPF account while you are resident Indian and then your status changes to NRI, you are allowed to continue with your PPF account. You can make contributions from NRE or NRO account.
On maturity, the funds will have to be withdrawn as they are not allowed for extension and the proceeds will be deposited in the NRO account.
Although in India the interest is tax-free and one can also claim 80C benefit from the investment if there is taxable income here, but the maturity or accrued interest may be taxable in the respective country where you are residing as NRI. You must check DTAA or talk to a tax consultant.
Is there any penalty for not converting to an NRO account?
I have heard from our NRI clients that few bankers suggest maintaining the status quo on a resident savings account but if any liability arises they will not be there to help you. Few bankers are not genuinely unaware & others think if the status will be changed – these accounts may be mapped to NRI cell & they will lose on the incentives.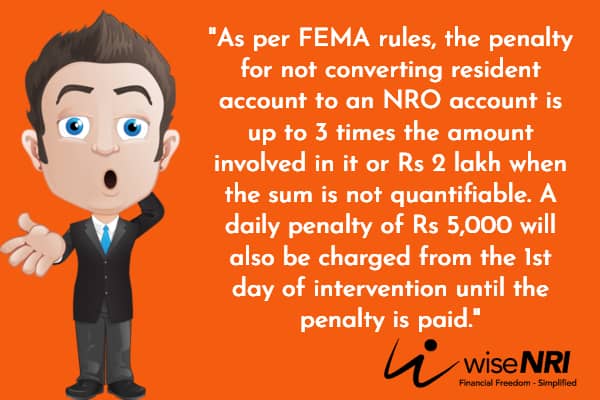 Be frank I have not come across any NRI who is penalized for having savings account in India. But why you want to take chance – follow the rules & have peace of mind.
Similarly in the case of PPF one of our clients clearly asked the manager of the Public Sector bank that he is an NRI so can he open the PPF account – the manager said YES. He opened that account but now I have suggested him to discontinue that.
Check – Impact of Change in Residential Staus
What you should do when you become NRI
If you have recently obtained an NRI status then these should be the first step for you:
1. Inform your bank that your status has changed. Approach your branch which will help you in the necessary paperwork for your new accounts.
2. Redo your KYC in your investments and update your accounts.
3. Reissue the cheques from a new account in all your investments and liabilities. If it an auto-debit then change the bank mandate to NRO or NRE account.
If you are an NRI please share your practical experience with Resident Saving Bank Account or if you know someone how is penalized for the same. If you have any questions feel free to add in the comments section.